This is a four-part story of St. Brendan who allegedly discovered America in A.D. 565
Part 1


1. Saint Brendan of Ardfert and Clonfert, towns in Ireland, was born in County Kerry in A.D. 484 and ordained a priest in 512.
2. The fact that Brendan discovered America was never proved. The oldest account of his voyage was Navigation Sancti Brendani, a book written in Latin in the 10th or 11th century.
3. As the story goes, Brendan did not believe a version of creation in a particular book so he threw it into a fire.
4. Suddenly an angel appeared. "Build a boat, sail west, and find the Garden of Eden.
5. Soon, Brendan and his fellow monks began to assemble the wooden frame of a boat while others stitched together dozens of hides. Then....
6. They stretched the leather hides over the frame. To make the vessel waterproof they rubbed animal fat over the hides, then brushed pitch on the seams.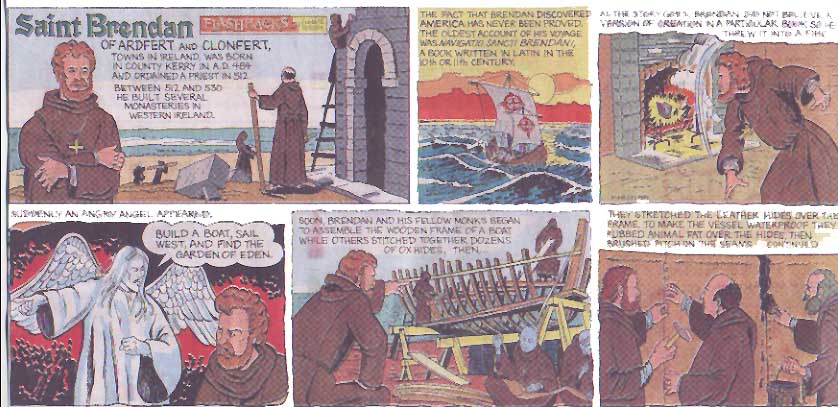 Part 1 - March 21, 2010


The Voyage of St. Brendan
1. A "best seller" in Europe during the middle ages was the Voyage of St. Brendan," a book written in Latin by an Irish monk living in Germany
It chronicled a fascinating expedition by St. Brendan (patron saint of County Kerry, Ireland) and about 14 monks and experienced sailors who set sail from Ardfert, Ireland arouind A.D. 565.
2. During their 7-year trip they encountered some strang-looking people and a giant sea monster. Brenday fulfilled his mission to find "Paradise," probably an island in the West Indies.
3. Brendan allegedly followed this route.
5. Based on the legend's description of geographical features, animals, and plants, some reputable scholars believe that Brendan actually sailed to North America and even entered the Chesapeake Bay. Next-Could it have been done?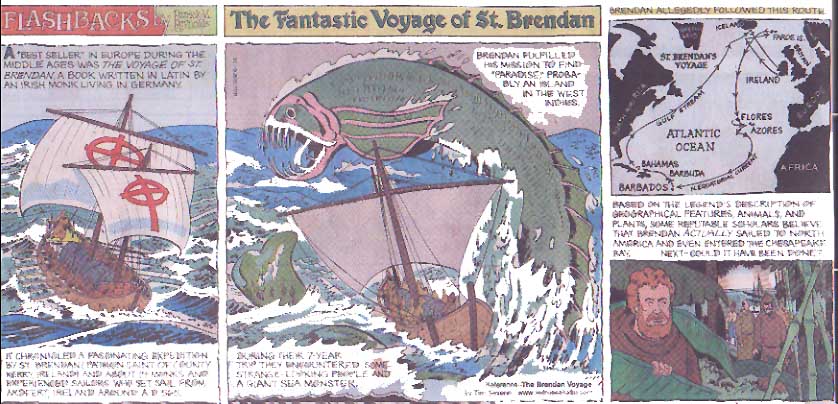 Part 3 - March 28, 2010


Testing the Legend
1. For centuries people doubted that St. Brendan and a crew of monks could have sailed from Ireland to North America in a boad made of a wooden frame covered with ox-hides and waterproofed with tar.
2. In 1973 British explorer Tim Severin decided to put the legend to a test.
3. He gathered a team of experts. Severin: "We'll use that 11th centre book TheVoyage of St. Brendan as a guide to build a boat, employing the same techniques and materials that St. Brendan did."
4. After 3 years of planning and building, Severan plus 4 crewmen set sail from Brandon Creek, Ireland on May 17, 1976 bound for Canada.
5. On reaching the North Atlantic they were frequently buffeted by gale-force winds.
One night their boat, the Brendan, was almost capsized by a passing trawler.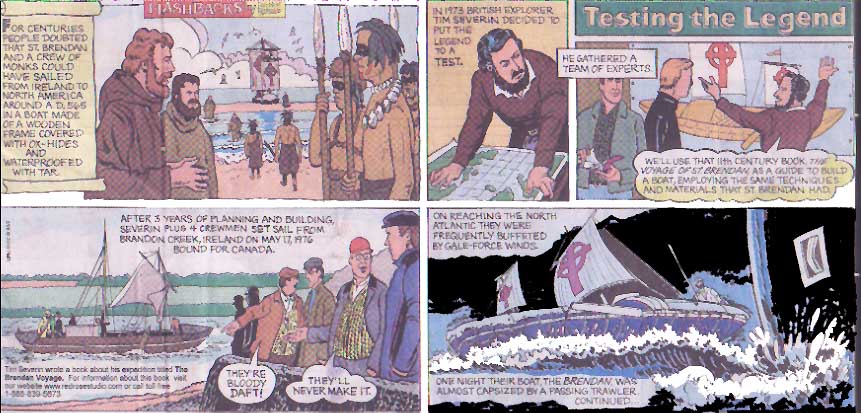 Part 4 of 5 April 4, 2010


1. Trying to Prove that St. Brendan arrived in the New World about a millennium before Columbus, Tim Severin piloted his 36-ft. leather boat across the North Atlantic from Ireland in 1976-1977.
2. Severin chose this norther line of travel because it was the most direct route with the least open water. Transatlantic jets also use it on U.S. to Ireland flights.
3. For months Severin and his crew endured freezing weather, heavy winds, and constant salt spray while subsisting on smoked and dried food.
4. On June 26, 1977, after 13 months at sea, George Molony, a crewman on the Brendanset foot on Peckford Island, Newfoundland.
5. Later Severin sailed into Boston harbor. Afterwards Severin remarked, "Despite our accomplishment, only the discovery of genuine Irish relics from Brendan's era could prove it actually happened." So, the legend lives on.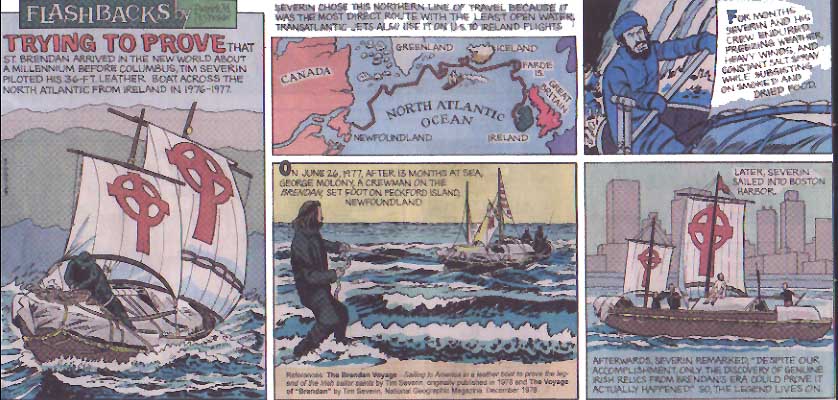 St. Patrick's Secrets - 101 Little-Known Truths and Tales of Ireland
by Helen Walsh Folsom with illustrations by Fergus Lyons
This little book contains the story of the time Brendan and his crew found an island, got off their boat, and built a fire. Suddenly the island started to sink. They were actually standing on top of a whale which plunged into the sea. The monks managed to swim back to their boat. This and other delightful, ironic, and outrageous anecdotes are described, many with whimsical drawings.
5½" x 8½" 150 pages, illustrated, paperbound
#317 St. Patrick's Secrets $12.95

The Irish Americans by Jay P. Dolan
The book starts with the oppression and harsh conditions in Ireland during the early 18th century that sparked the emigration of the Irish to America. This book covers the poverty of the immigrants, their loyalty to one another, their struggles to create a place for themselves in this country despite intense hostility and deep-seated prejudice, and their ultimate success despite all their enemies. Dolan focuses on four major themes that have dominated Irish American history: politics, religion, labor, and nationalism.
5½" x 8¼" 352 pages, index, photos, paperbound
#105 Irish Americans $18.00