July 17, 2005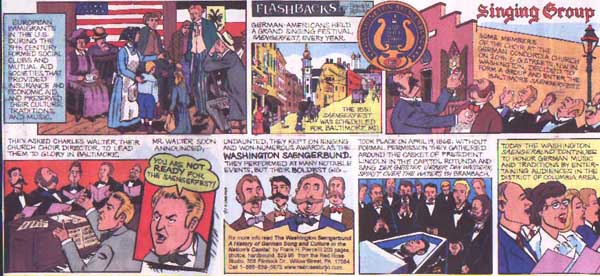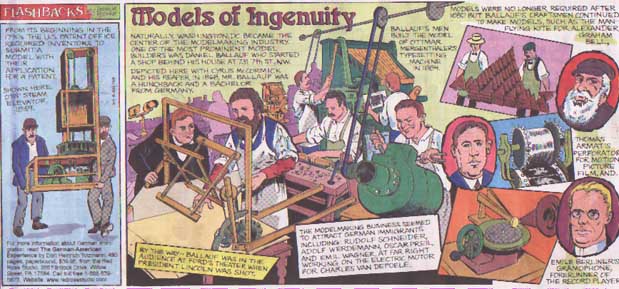 The original art of each Flashbacks story is for sale, as well as signed prints ideal for framing.
For prices, and to see what an original looks like, CLICK HERE.
Washington Sangerbund–A History of German Song and German Culture in the Nations's Capital
by Frank H. Pierce III
A classy, elegant, hardbound book that includes a history of the German people in Washington, and a brief outline of singing groups in the District. Mr. Pierce gives an enjoyable story of this distinguished ensemble and loaded the book with vintage photos.
7" x 10" 203 pages, index, illustrated, hardbound
#98 Washington Sangerbund $25.95
The German-American Experience by Don Heinrich Tolzmann
Germans began settling in what is now the United States in 1608 when eight German carpenters and glassmakers settled in Jamestown, Virginia. During the Revolutionary War, Hessian soldiers fought against the Americans; many who were captured decided to stay in this country and gave us many of their holiday traditions from the Christmas tree to Groundhog Day. German immigrants fought on both sides during the Civil War, with special German regiments from Pennsylvania. Representing one fourth of the U.S. population--over 60 million people, Germans are the largest ethnic group in the country. This is a good read and a comprehensive history of Germans in the U.S. An ideal gift for a grandchild to appreciate their cultural heritage.
6" x 9" 466 pages, index, photos, paperbound
#103 German-American Experience $34.95
Would you like to own an original Flashbacks cartoon?
Click Here.

Here are two volumes containing reproductions of Flashbacks cartoons:

A Cartoon of the District of Columbia Flashbacks Volume One Patrick M. Reynolds brings history to life with a sense of humor. His exciting drawings put you on the scene with the conflicts, madness, plus the wheeling and dealing that resulted in the location and construction of the U.S. capital city. This book covers the early history of DC from 1776 to 1863. You'll be surprised at how many cities served as the U.S. capital; you'll be amazed that the city was built--despite all the bickering, petty jealousies, and down-right stupidity.
11¾" x 7½" 106 pages, full color illustrations, index, paperbound ISBN 0-932514-31-6
#F1 Cartoon History of DC $25.00

DC Neighborhoods Flashbacks Vol. Two Artist-writer Patrick M. Reynolds takes you to the Washington that tourists seldom see The U.S. capital expanded with the growth of public transportation into such areas as Shepard Park, Takoma Park, Chevy Chase, Kalorama, Dupont Circle, Adams Morgan, Capital Hill, LeDroit Park, Tenleytown, Brookland, and others. Stories in this book go back to the explorations of Capt. John Smith in the 1600s and the Indian Wars of early Virginia, continuing into the 20th century with the introduction of the cherry trees to Washington and the end of segregation in public schools.
11¾" x 7½" 106 pages, full color illustrations, index, paperbound ISBN 0-932514-33-2
#F2 DC Neighborhoods $14.95