Part 1 of 3


1. The original of The Treaty of Paris is on display at the National Archives in Washington, DC until January 25, 2009
2. After the British surrendered to General George Washington at Yorktown, Virginia on October 19, 1781, British and American diplomats met at the Hotel de York in Paris, France to work out a treaty which would officially end the Revolutionary War. Note, the dialogue in the balloons depict the final terms agreed upon:
"England must recognize our 13 states as a united, independent, and soverign nation."
"Our national border should extend to the Mississippi River."
"British troops must withdraw from our country"
The American delegates were (from left) John Jay, Benjamin Franklin, William Temple Franklin (secretary), Henry Laurens, and John Adams.
3 The delegates signed the treaty on September 3, 1783. The (lone) British delegate David Hartley emphasized a critical term in the document...
"This treaty must be ratified by Parliament and your congress by March 3, 1784 for it to be valid."
4. There would be a problem in meeting that deadline. On June 8, 1783 the Laki volcano in Iceland erupted with the greatest force of the millenium. For the next 8 months it emitted some 12.8 million tons of sulphur dioxide and fluorine that cooled the northern hemisphere and ruined Iceland's agriculture.
More than 20 percent of Iceland's residents died of starvation and fluorine poisoning.
5. Thomas Mifflin of Pennsylvania, president of the Congress, convened a ratification session on December 13, 1783 in Annapolis, Maryland.
Mifflin: "Although every state favors the treaty, we do not have enough representatives from at least nine states to approve ratification."
Iceland's volcanic eruptions temporarily changed the climate, resulting in blizzards which paralyzed the eastern seaboard.
Special thanks for the research to John Blair of Rockville, MD http://peaceproclamation.com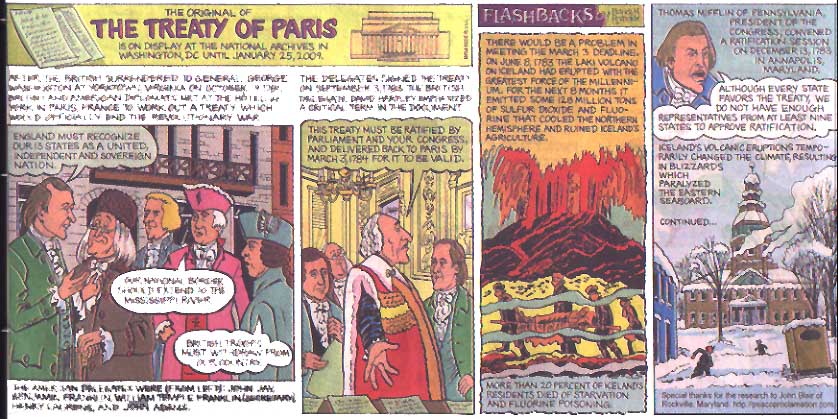 Part 2 - Weather or Not
1. December 1783 - Heavy snowfalls prevented many congressmen from traveling to Annapolis, Maryland to ratify the Treaty of Paris which would end the Revolutionary War.
The government was operating under the Articles of Confederation.
Delegate: "Only 7 of the 13 states have enough congressmen here to vote for the treaty.
Other delegate: "We need 9 states to vote in favor of ratification."
2. Each state must have at least two representatives in attendance for its vote to count, but six states had either one or none at the session.
3. Arthur Lee of Virginia, Jacob Read (the only delegate on hand from South Carolina), and some others approached Thomas Jefferson, manager of the ratification effort.
Jacob Read: "Let's send the ratification to Paris with just the seven votes."
Arthur Lee: "Nobody will any the wiser."
4. Jefferson, Elbridge Gerry, and James Monroe strongle objected.
Jefferson: "It must have 9 states in favor. If word of your trickery got out, our country would lose credibility on an international scale...and the treaty will be nullified."
5. Jefferson suggested a compromise. "We'll send dthe 7-vote ratification to Paris and instruct Dr. Franklin to ask for an extension of the deadling beyond March 3rd.
6. "If the Brits refuse, Dr. Franklin will show them the 7-vote ratification."
7. The vote on Jefferson's compromise was scheduled for January 14th, but the previous evening Oliver Wolcott and Roger Sherman of Connecticut rode into Annapolis. The compromise would not be necessary because..
8. On the morning of the 14th Richard Beresford of South Carolina, who had left his sickbed in Philadelphia, walked into the State House.
9. The Treaty was quickly ratified. Then Thomas Mifflin, President of the Congress, devised a plan.
Mifflin: "Col Harmer, Lt. Col. Franks, you will both carry a copy of the ratified treaty to France on different ships, just in case one ship gets delayed or lost."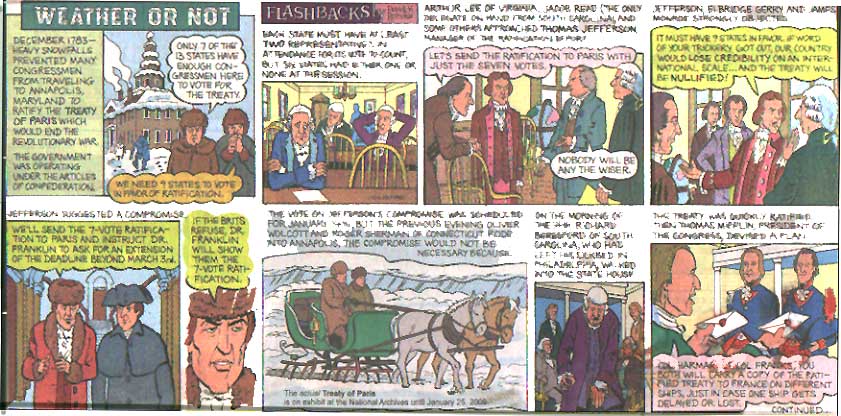 Part 3 Dashing Through the Snow
1. Annapolis, MD, January 14, 1784--Of the two Army officers ordered to carry duplicates of the ratified Treaty of Paris to France, Lt. Col. Josiah Harmar would get there first.
This is his story. Harmar left Annapolis on an overland route to New York City.
2. At Head of Elk (now Elkton, MD) he met the French ambassador. "Captaine D'Aboville will take you to France. This letter instructs him to render all courtesies to a Congressional courier.
3. Harmar arrived at Newark, NJ, then took a ferry across the North (now Hudson) River to New York on the morning of January 19.
Ferryman: "There'll be no big ships goin' t' Europe anytime soon. Too much ice in th' harbor."
4. Finally, on February 21, Harmar boarded the French ship Courier de L'Amerique and sailed to France.
5. Aafter a grueling month-long voyage Harmar landed at the French naval base at L'Orient. With Capt. D'Aboville as his interpreter, he set out for the Passy section of...
6. Paris, where the American diplomat Benjamin Franklin was residing.
Franklin: "You needn't have rushed. I had written to our fellow peace negotiator Henry Laurens, now in London, to ask our...
7. "Brisish counterpart Mr. Hartley for more time. Hartley understood ouir problems with the bad weather, so he granted an extension."
8. King George III, informed that the American ratification had arrived, signed the British ratification on April 9, 1784. Both countries exchanged ratified documents inParis on May 12, 1784.
The Revolutionary war was over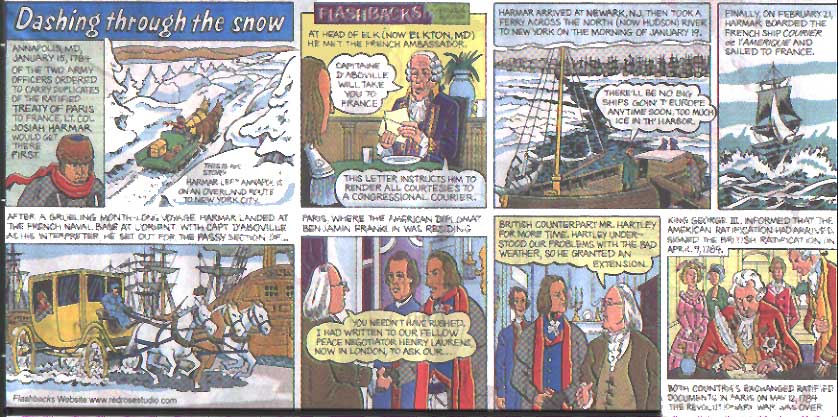 Would you like to own an original Flashbacks cartoon?
Click Here.

Here are two volumes containing reproductions of Flashbacks cartoons:

Flashbacks Volume One
A Cartoon of the District of Columbia
Patrick M. Reynolds brings history to life with a sense of humor. His exciting drawings put you on the scene with the conflicts, madness, plus the wheeling and dealing that resulted in the location and construction of the U.S. capital city, despite all the bickering, petty jealousies, and down-right stupidity.

This volume is almost out of print, hence the higher price.


11¾" x 7½" 106 pages, full color illustrations, index, paperbound
ISBN 0-932514-31-6
#F1 Cartoon History of DC $25.00

DC Neighborhoods Flashbacks Vol. Two Artist-writer Patrick M. Reynolds takes you to the Washington that tourists seldom see The U.S. capital expanded with the growth of public transportation into such areas as Shepard Park, Takoma Park, Chevy Chase, Kalorama, Dupont Circle, Adams Morgan, Capital Hill, LeDroit Park, Tenleytown, Brookland, and others. Stories in this book go back to the explorations of Capt. John Smith in the 1600s and the Indian Wars of early Virginia, continuing into the 20th century with the introduction of the cherry trees to Washington and the end of segregation in public schools.
11¾" x 7½" 106 pages, full color illustrations, index, paperbound ISBN 0-932514-33-2
#F2 Cartoon History of DC $14.95