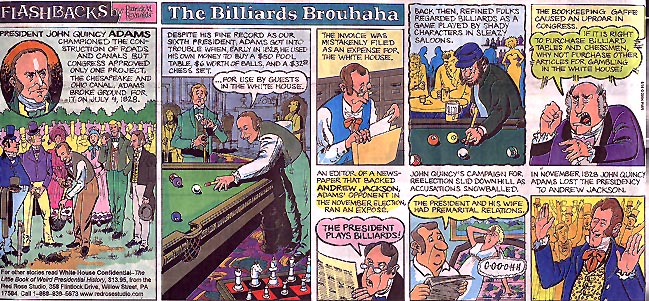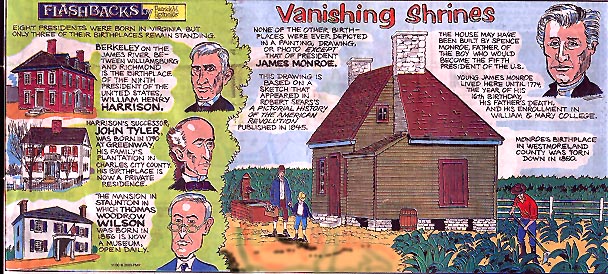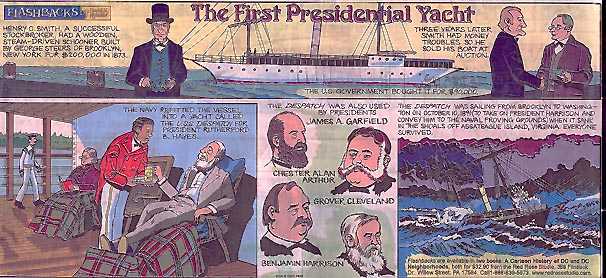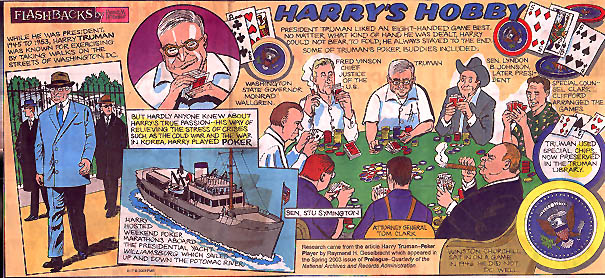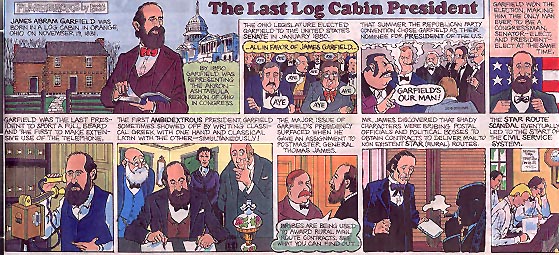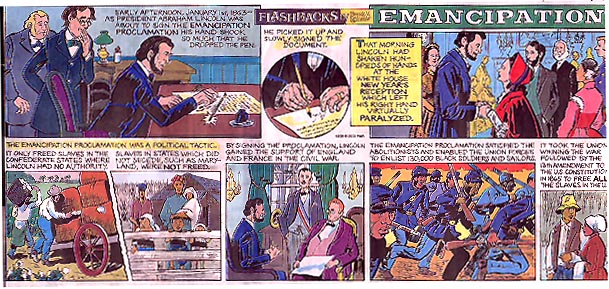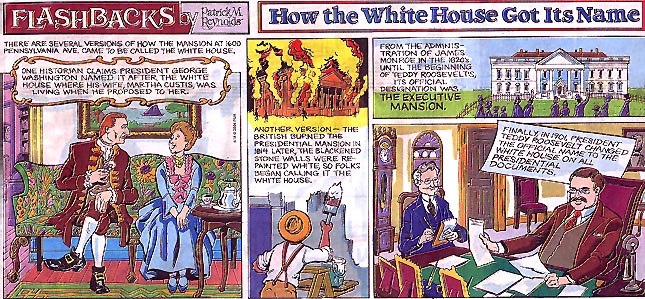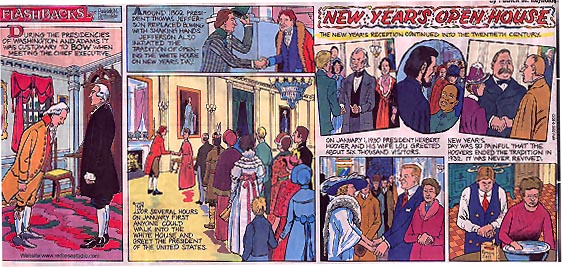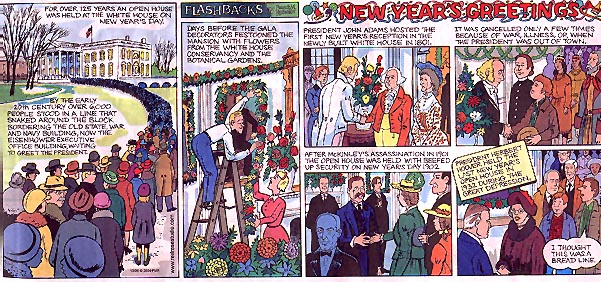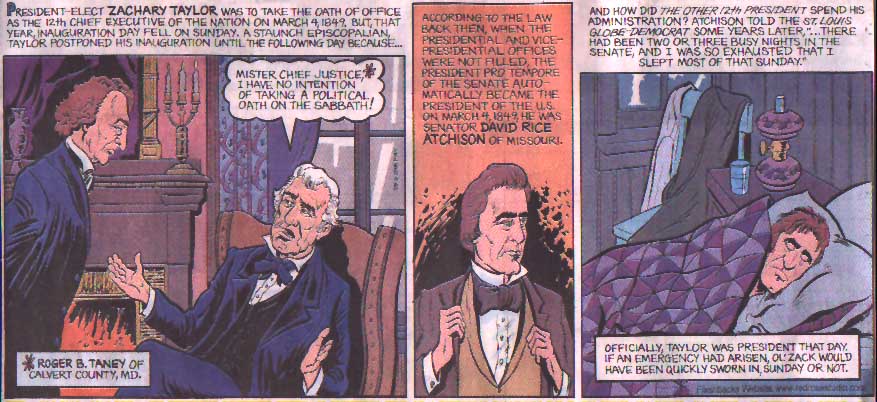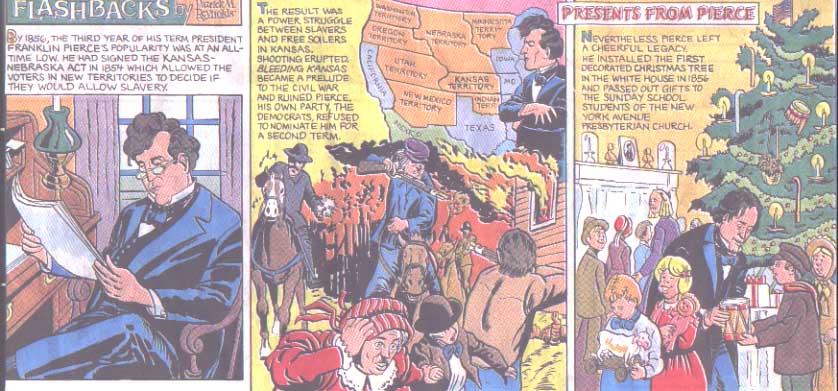 The Origin of OK as a positive response has many versions.
During the Battle of New Orleans in 1815 General Andrew Jackson asked Pushmantaha, leader of some 500 Choctaws, "How are our warriors doing against the British?"
Panel 2: Jackson started using the term. He became our seventh president, serving from 1829 to 1837. Jackson: "My Vice-President John C. Calhoun resigned. That's OK with me."
"Okeh." Meaning "It is so"

Panel 3: "OK" first appeared in print in the Boston Morning Post of March 23, 1893. Its editor Charles Gordon Greene explained, "It's a variation on an incorrectly spelled slang term Oll Korrect.

Panel 4: Our eighth president Martin Van Buren ran for reelection in 1840 against....

Panel 5: General William Henry Harrison who sported the nickname Tippicanoe, after his famous victory in the War of 1812.

Panel 6: Van Buren's campaign managers: "He needs a catchy nickname.
"A lot of ads use Old suchas Old Glory."
"President Van Buren hails from Kinderhook, New York."
"That's it. How 'bout Old Kinderhook.."

Panel 7: Overnight, Democratic OK (Old Kinderhook) Clubs sprang up across the country. Van Buren's supporters work "OK" badges.

Panel 8: Unfortunately for Van Buren the voters OK'd Harrison for Prez.

Panel 8 footnote: OK Lives on as a slang expression for something good in many languages.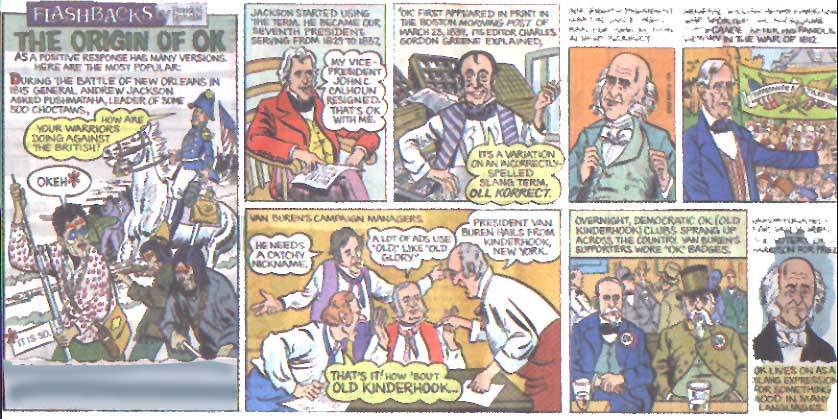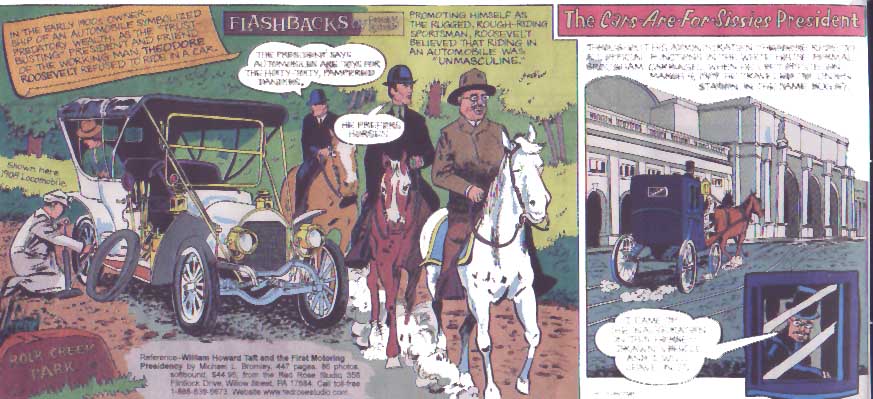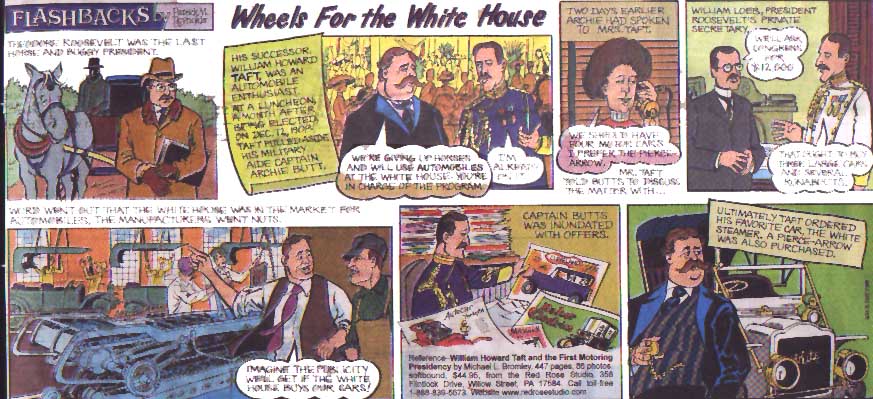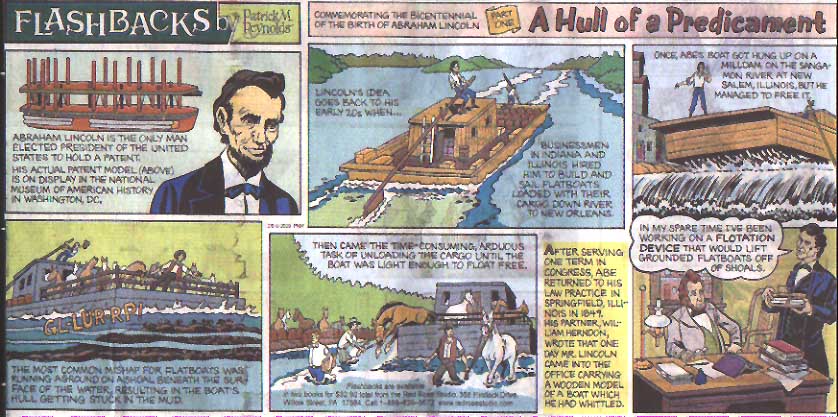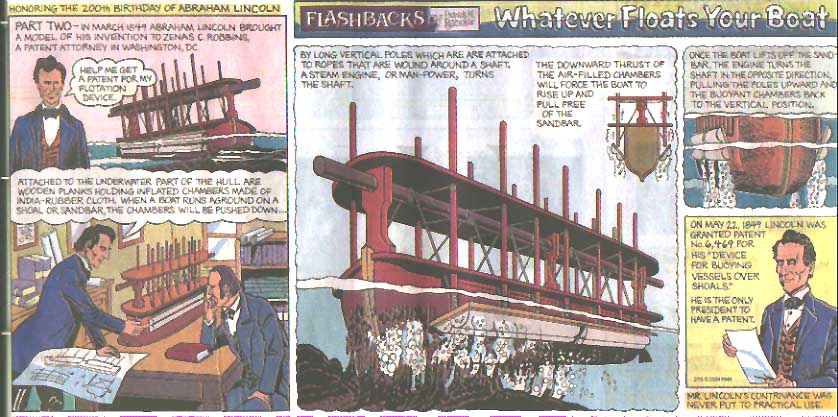 An excellent reference that gives an overall description of every president:

William Howard Taft and the First Motoring Presidency by Michael L. Bromley
Here is an off-beat look at the oft-maligned presidency of William Howard Taft which focuses primarily on his cars and the role of the automobile in the politics of his day. The appendices provide information on the White House garage and stable, Taft's speech to the Automobile Club of America, and a glossary. Unlike his predecessors, who made public their disdain for cars, Taft saw the automobile as a great source of wealth for the country. The first president to acquire a car in office (actually Congress granted him three), Taft put a garage at the White House in 1909.
7" x 10" 439 pages, index, illustrated, paperbound ISBN 0-7864-2952-6
#482 Taft and First Motoring Presidency $40.95

The U.S. Presidents Illustrated by Robert M. Reed
Bios of all 44 presidents up to Obama. The unique aspect of this book is the profusion of off-beat ways that pictures of the Prez appeared, from official White House photos to boxes and post cards.
8½ x 11" 144 pages, illustrated, paperbound
#244 Presidents Illustrated $25.00


Click here for more books about the Presidents and the White House
For about 80 years after George Washington was president, nobody referred to the wife of thepresident as the First Lady.
Pictured here left to right, from top: Mary Lincoln, Michelle Obama, Barbara Bush, Marth Washington, Pat Nixon, Eleanor Roosevelt, Mamie Eisenhower, Jackie Kennedy, and Nancy Reagan.
2. Most likely the first time the term First Lady appeared in print was in 1860 in Frank Leslie's Illustrated Newspaper.
3. However, it did not mean the president's wife. It was Harriet Lane, President Buchanan's niece.
James Buchanan was a bachelor, so his niece served as hostess of the White House.
4. A writer for Leslie's Illustrated described Ms. Lane as "the lady of the White House, and by courtesy, the First Lady of the Land."
But the title did not catch on until....
5. A reporter, Mary Clemmer Amers started to use "the First Lady" in her column A Woman's Letter From Washington for the Independent, a Protestant weekly out of New York City.
6. Mrs. Ames wrote about the March 4, 1877 inauguration of President Rutherford B. Hayes, but she was more impressed by...
7. The President's wife. In her writings, Mary referred to Mrs. Hayes as "the First Lady." Lucy Hayes was very popular, and soon the press called her the First Lady. The title has been in use ever since.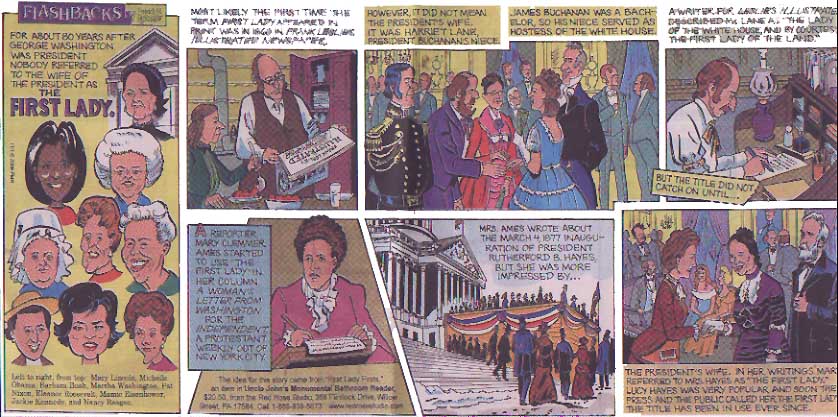 Here are two volumes containing reproductions of Flashbacks cartoons:

A Cartoon of the District of Columbia Flashbacks Volume One Patrick M. Reynolds brings history to life with a sense of humor. His exciting drawings put you on the scene with the conflicts, madness, plus the wheeling and dealing that resulted in the location and construction of the U.S. capital city. This book covers the early history of DC from 1776 to 1863. You'll be surprised at how many cities served as the U.S. capital; you'll be amazed that the city was built--despite all the bickering, petty jealousies, and down-right stupidity.
11¾" x 7½" 106 pages, full color illustrations, index, paperbound ISBN 0-932514-31-6
#F1 Cartoon History of DC $25.00

DC Neighborhoods Flashbacks Vol. Two Artist-writer Patrick M. Reynolds takes you to the Washington that tourists seldom see The U.S. capital expanded with the growth of public transportation into such areas as Shepard Park, Takoma Park, Chevy Chase, Kalorama, Dupont Circle, Adams Morgan, Capital Hill, LDroit Park, Tenleytown, Brookland, and others. Stories in this book go back to the explorations of Capt. John Smith in the 1600s and the Indian Wars of early Virginia, continuing into the 20th century with the introduction of the cherry trees to Washington and the end of segregation in public schools.
11¾" x 7½" 106 pages, full color illustrations, index, paperbound ISBN 0-932514-31-6
#F2DC Neighborhoods $14.95

Previous weeks' stories and references: Combat Artists...The Ghost Army of WWII... Artists in War The Limb Maker...Duke Ellington...Ferries Across the Chessie .. Ninian Beall Sequence.....UFOs Over Washington Culpeper of Virginia...The Spanish Flu Epidemic of 1918...Indians of the Eastern Shore of MD & VA...Black Confederates... Pirates on the Chesapeake...Ghost stories...Clovers...Hoover Airport...Slavery
e-mail: pat@redrosestudio.com or redrosestudio@dejazzd.com