The Story of V-Mail
Part 1 of 3 The script is as follows. The numbers indicate the panels.


1. Among the challenges facing the U.S. government when it entered World War II in 1941 was how to handle the mail between millions of soldiers and sailors overseas and the folks back home
2. Every available sip and aircraft carried man and war equipment to Europe, Africa, and the Pacific, leaving little room for the mail.
3. Mail is vital for the morale of our fighting men. A method had to be foud to deliver tons of letters to them every day.
4. The solution was the RECORDAK, a check photographing machine invented in 19027 by George Lewis McCarthy and manufactured by the Eastman Kodak Co.
5.The device photographed checks on 16 millimeter film before the bank returned the checks to its customers. The RECORDAK would now be sed to convert letters to servicemen into microfilm. The system was called V-Mail, or Victory Mail.
Shown here is a cutaway view of how the RECORDAK worked.
6. On may 8, 1942 the Department of War signed a contract with the Eastman Kodak Company for V-mail microfilming.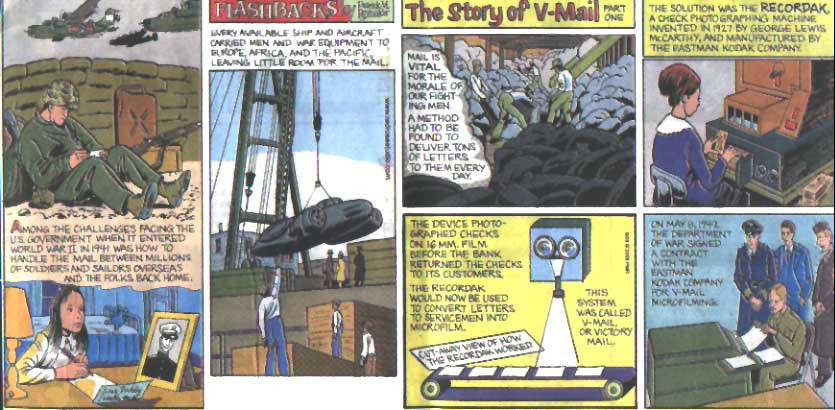 Part 2 of 3


1. Launched June 15, 1942 the Victory (V) Mail system was managed jointly by the Post Office, War, and Navy Departments.
2. The Post office gave each customer up to 2 sheets per day of special V-Mail stationery at no charge.
"It's both a letter and an envelope. Each sheet holds up to 700 typewritten words."
3. Above the body of the letter was a place for the recipient's name and address. The address and letter would be mocrofilmed together.
4. V-Mail was folded into a self mailing piece.
5. The letter was addressed again on the outside. Surface mail needed a 3 cent stamp.
6. Airmail cost 6 cents, later 8 cents.
7. Postal officials divided the country into 3 regioins and funneled all the incoming and outgoing V-Mai into 3 facilities: San Francisco, Chicago, and New York City.
8. On arrival at the regional facility every V-Mail letter was opened, flattened out, and passed to....
9. The RECORDAK operator to be photographed, and finally...
10.. processed on reels of 16 mm film. The original letters were kept in storage. If the film was lost or damaged the letters could be rephotographed.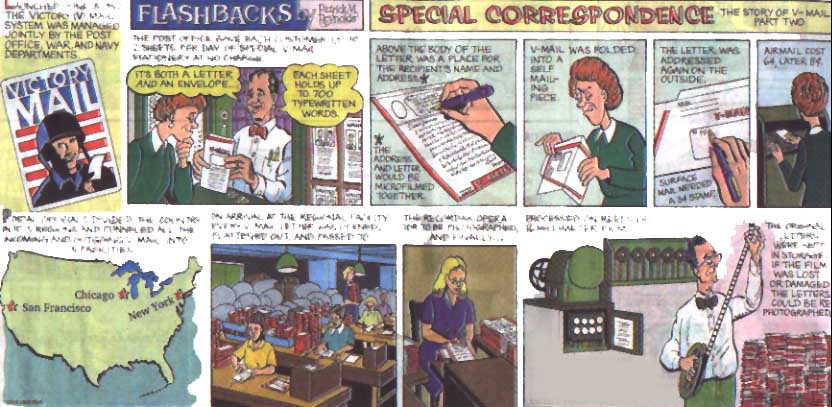 Part 3 of 3


1. Between 1,500 and 1,800 V-mail letters could fit on a 90-ft. roll of 16 mm film. Normally 150,000 single-sheet letters weighed 2,575 pounds and required 37 sacks. The same number of microfilm letters weighed 45 pounds and fit in one sack. This save 98% of cargo weight and space.
2. V-mail stations were located in the European and Pacific theaters of war in such places as Iceland, Australia, Algeria, Egypt, Pearl Harbor, and (shown here) Guadalcanal.
3. Whereas Kodak technicians handled the photo processing stateside, soldiers and sailors did the job overseas. On arrival the film was placed on an enlarger
4. Next, the letters were printed on long rolls of photographic paper.
5. Measuring 4½ by 5½ inches, each print of a letter was cut apart by hand, folded, placed in an envelope, and..
6. delivered to the troops in the field and at sea.
7. For sending letters home, military personnel were issued 2 sheets of V-mail stationery a day.
8. During the height of the war, in 1944, some 11.5 million servicemen and women were sending abouit 70 million pieces of mail a week.
World War II ended on September 2, 1945. V-mail ceased on November 1.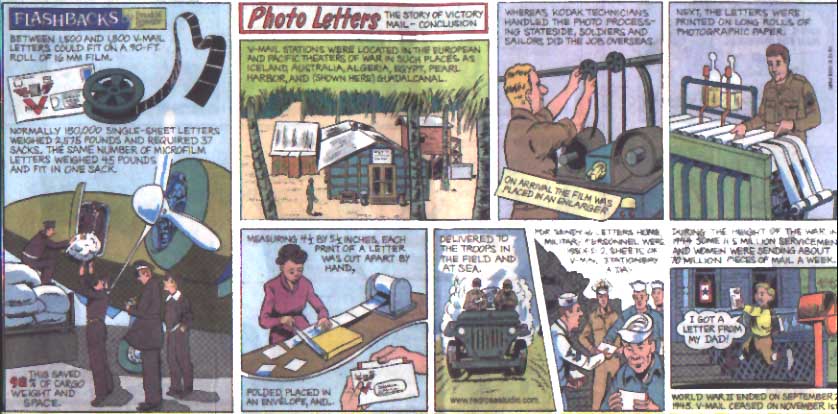 Reference: Victory Mail of World War II, the Funny Mail by Captain Jim Hudson.
6 x 9" 236 pages. Rare out-of-print book available for $35.95.
#502 Victory Mail $35.95

Would you like to own an original Flashbacks cartoon?
Click Here.

Here are two volumes containing reproductions of Flashbacks cartoons:

Flashbacks Volume One
A Cartoon of the District of Columbia
Patrick M. Reynolds brings history to life with a sense of humor. His exciting drawings put you on the scene with the conflicts, madness, plus the wheeling and dealing that resulted in the location and construction of the U.S. capital city, despite all the bickering, petty jealousies, and down-right stupidity.

This volume is almost out of print, hence the higher price.


11¾" x 7½" 106 pages, full color illustrations, index, paperbound
ISBN 0-932514-31-6
#F1 Cartoon History of DC $25.00

DC Neighborhoods Flashbacks Vol. Two Artist-writer Patrick M. Reynolds takes you to the Washington that tourists seldom see The U.S. capital expanded with the growth of public transportation into such areas as Shepard Park, Takoma Park, Chevy Chase, Kalorama, Dupont Circle, Adams Morgan, Capital Hill, LeDroit Park, Tenleytown, Brookland, and others. Stories in this book go back to the explorations of Capt. John Smith in the 1600s and the Indian Wars of early Virginia, continuing into the 20th century with the introduction of the cherry trees to Washington and the end of segregation in public schools.
11¾" x 7½" 106 pages, full color illustrations, index, paperbound ISBN 0-932514-33-2
#F2 Cartoon History of DC $14.95