The Blizzard of 1888
The story of the death of Senator Roscoe Conkling is part of the saga of the Blizzard of 1888. Part of this story is shown below, and is also reproduced in the full-color book Big Apple Almanac 2.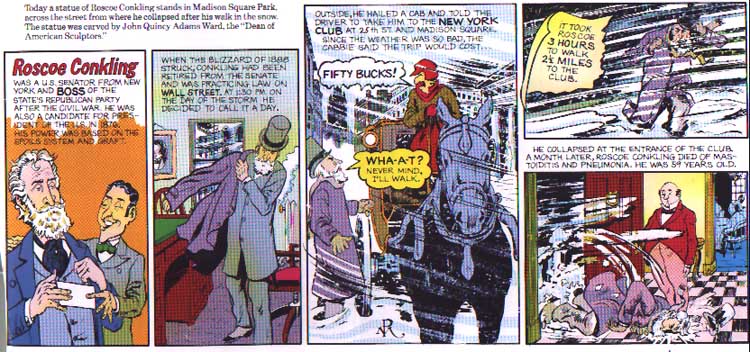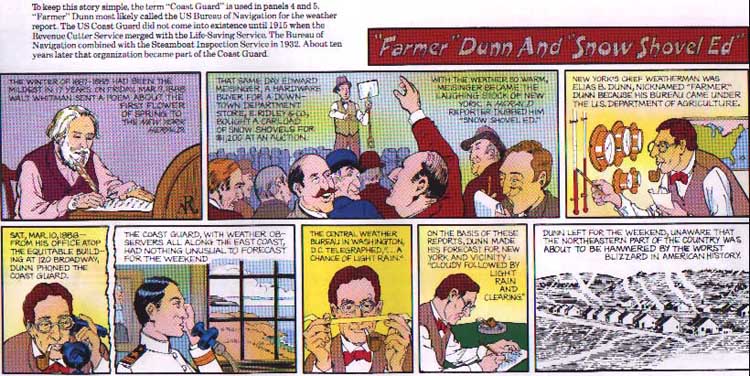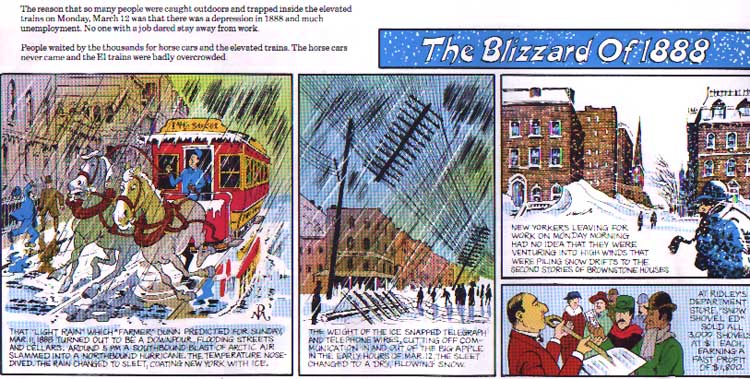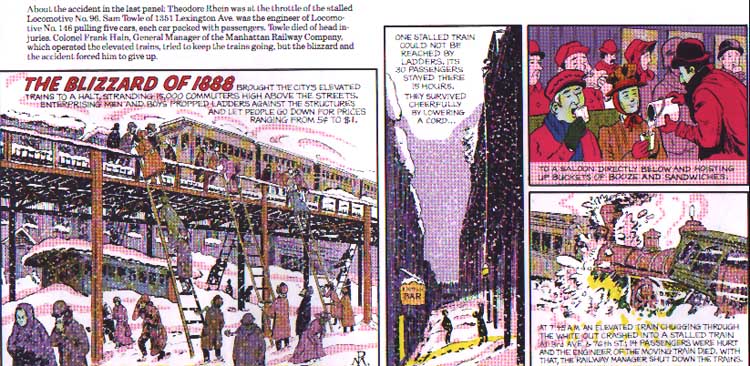 This is only part of the story about the Blizzard which appears in this book:

Big Apple Almanac Volume Two by Patrick M. Reynolds Here is another beautiful full-color book which begins with the Battle of Kip's Bay where General Washington totally lost his cool, and almost the war; followed by the inside story of his first inauguration. Find out how Tiffany got into the gem business, how Currier and Ives made great pictures...and speaking of pictures, see how Thomas Edison invented motion pictures and started the movie business, and how vaseline originated at an oil derrick, why they drop the ball on New Year's, and Milton Hershey's disastrous start in the candy biz. Here are stories behind some obscure, but important firsts: gynecologist, woman doctor, phone company, taxi cabs, skywriter, fire engine, and the first and only woman Medal of Honor recipient. There are special sections on the great blizzard of 1888, and the Parade of the Pooper-Scoopers.
11¾" x 7" 109 pages, index, fully illustrated, paperbound ISBN 0-932514-24-3
#A2 Big Apple Almanac 2 $14.95

Would you like to own an original Flashbacks cartoon?
Click Here.

Here are two volumes containing reproductions of Flashbacks cartoons:

A Cartoon of the District of Columbia Flashbacks Volume One Patrick M. Reynolds brings history to life with a sense of humor. His exciting drawings put you on the scene with the conflicts, madness, plus the wheeling and dealing that resulted in the location and construction of the U.S. capital city. This book covers the early history of DC from 1776 to 1863. You'll be surprised at how many cities served as the U.S. capital; you'll be amazed that the city was built--despite all the bickering, petty jealousies, and down-right stupidity.
11¾" x 7½" 106 pages, full color illustrations, index, paperbound ISBN 0-932514-31-6
#F1 Cartoon History of DC $25.00

DC Neighborhoods Flashbacks Vol. Two Artist-writer Patrick M. Reynolds takes you to the Washington that tourists seldom see The U.S. capital expanded with the growth of public transportation into such areas as Shepard Park, Takoma Park, Chevy Chase, Kalorama, Dupont Circle, Adams Morgan, Capital Hill, LeDroit Park, Tenleytown, Brookland, and others. Stories in this book go back to the explorations of Capt. John Smith in the 1600s and the Indian Wars of early Virginia, continuing into the 20th century with the introduction of the cherry trees to Washington and the end of segregation in public schools.
11¾" x 7½" 106 pages, full color illustrations, index, paperbound ISBN 0-932514-33-2
#F2 Cartoon History of DC $14.95