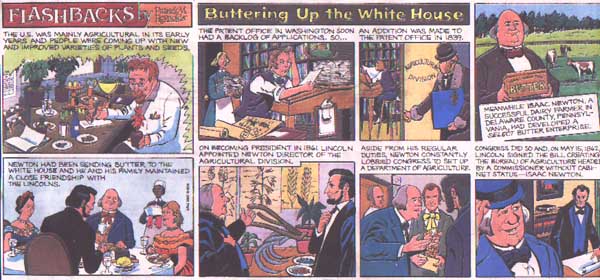 June 12, 2005
This is the first of a two-part story on the history of canning. Part two will focus on the industry in Maryland.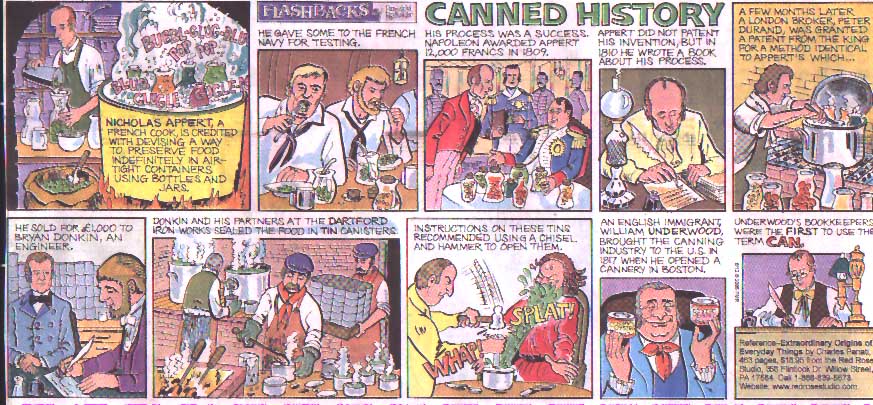 June 19, 2005 - Part Two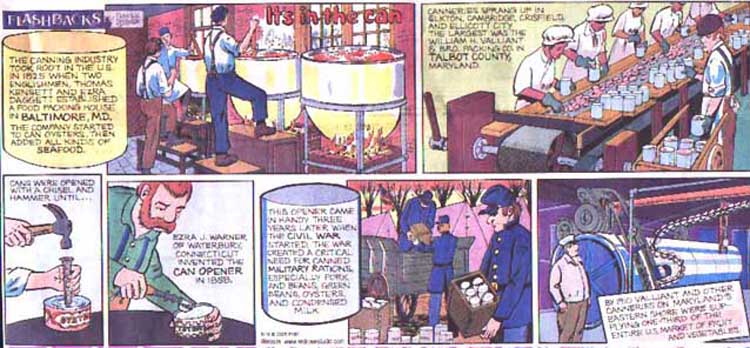 Much of the reference for this story came from the book which is now out of print, Pickled, Potted, and Canned - How the Art and Science of Food Preserving Changed the World by Sue Shephard, 2000 Simon & Schuster.
Another fine reference is this book:

Extraordinary Origins of Everyday Things by Charles Panati Discover the fascinating stories of how and why hundreds of the every items, expressions, and customs we take for granted came into existence, such as •how chewing gum and Silly Putty began as substitutes for rubber • how the song "Happy Birthday" began • the hot dog began as an outlawed Roman sausage • the origins of Kleenex, Barbie Dolls, the Boy Scouts, Slinky, Mother Goose, nail polish, safety pins, Tupperware, Valium, doughnuts, honeymoons, the bikini, Uncle Sam, Vick's VapoRub, the lawn and lawn mower, brassiere, underwear, toilets and toilet paper, and much more!
6" x 9" 463 pages, index, illustrations, paperbound
#464 Origins of Everyday Things $15.95

Would you like to own an original Flashbacks cartoon?
Click Here.

Here are two volumes containing reproductions of Flashbacks cartoons:

A Cartoon of the District of Columbia Flashbacks Volume One Patrick M. Reynolds brings history to life with a sense of humor. His exciting drawings put you on the scene with the conflicts, madness, plus the wheeling and dealing that resulted in the location and construction of the U.S. capital city. This book covers the early history of DC from 1776 to 1863. You'll be surprised at how many cities served as the U.S. capital; you'll be amazed that the city was built--despite all the bickering, petty jealousies, and down-right stupidity.
11¾" x 7½" 106 pages, full color illustrations, index, paperbound ISBN 0-932514-31-6
#F1 Cartoon History of DC $25.00

DC Neighborhoods Flashbacks Vol. Two Artist-writer Patrick M. Reynolds takes you to the Washington that tourists seldom see The U.S. capital expanded with the growth of public transportation into such areas as Shepard Park, Takoma Park, Chevy Chase, Kalorama, Dupont Circle, Adams Morgan, Capital Hill, LeDroit Park, Tenleytown, Brookland, and others. Stories in this book go back to the explorations of Capt. John Smith in the 1600s and the Indian Wars of early Virginia, continuing into the 20th century with the introduction of the cherry trees to Washington and the end of segregation in public schools.
11¾" x 7½" 106 pages, full color illustrations, index, paperbound ISBN 0-932514-33-2
#F2 DC Ndighborhoods $14.95