If you are intested in having a certificate done for any occasion, call us at (717) 464-3873 and we will discuss what we can do for you within your budget.
We will start by sending you a pencil layout for your consideration, then go from there.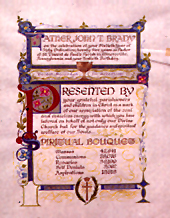 Note the variety of styles and ornamentation that we incorporate into each certificate. We do not work from a pattern. Each certificate is one of a kind.
You can reach us via e-mail redrosestudio@dejazzd.com