April 6, 2003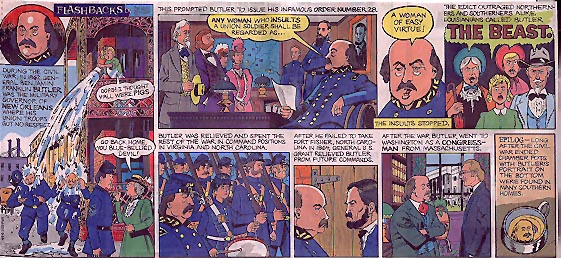 April 13, 2003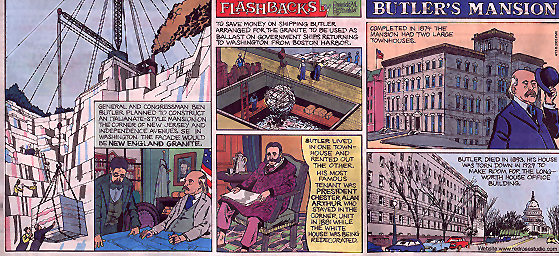 Some of the reference for this story came from the book Capital Losses, which is now out of print.
We recommend these books that contain off-beat stories of the Civil War:

The Civil War Strange & Fascinating Facts by Burke Davis
Wonderfully entertaining, this almanac takes a new look at the personalities and events of the years 1861–1865. Among the "firsts" of this era were the submarine, the snorkel, the income tax, aerial reconnaissance, the first black Army officer. Also: the symbols of the Confederacy, famousonlookers, whatever happened to some of the famous and lesser-known characters; and more.
6¼" x 9¼" 249 pages, illustrated, hardbound
#35 Civil War Facts $9.00
Unknown Civil War
by Webb Garrison
Odd, peculiar, and unusual stories of the War Between the States, divided into the following chapters: Shenanigans and Snafus: the Railsplitter and his Clan: Slavery: Generals and Battles: Myths, Ridles, and Enigmas: First Happenings and Doings; Johnny Reb and Billy Yank; Record Makers and Breakers; Fresh and Salt Water; and Laws and Politics.
6" x 9" 301 pages, index, illustrated, paperbound
#421 Unknown Civil War $14.95

For more books on the Civil War, click here.
Here are two volumes containing reproductions of Flashbacks cartoons:

A Cartoon of the District of Columbia Flashbacks Volume One Patrick M. Reynolds brings history to life with a sense of humor. His exciting drawings put you on the scene with the conflicts, madness, plus the wheeling and dealing that resulted in the location and construction of the U.S. capital city. This book covers the early history of DC from 1776 to 1863. You'll be surprised at how many cities served as the U.S. capital; you'll be amazed that the city was built--despite all the bickering, petty jealousies, and down-right stupidity.
11¾" x 7½" 106 pages, full color illustrations, index, paperbound ISBN 0-932514-31-6
#F1 Cartoon History of DC $25.00
DC Neighborhoods Flashbacks Vol. Two Artist-writer Patrick M. Reynolds takes you to the Washington that tourists seldom see The U.S. capital expanded with the growth of public transportation into such areas as Shepard Park, Takoma Park, Chevy Chase, Kalorama, Dupont Circle, Adams Morgan, Capital Hill, LDroit Park, Tenleytown, Brookland, and others. Stories in this book go back to the explorations of Capt. John Smith in the 1600s and the Indian Wars of early Virginia, continuing into the 20th century with the introduction of the cherry trees to Washington and the end of segregation in public schools.
11¾" x 7½" 106 pages, full color illustrations, index, paperbound ISBN 0-932514-31-6
#F2 Cartoon History of DC $14.95